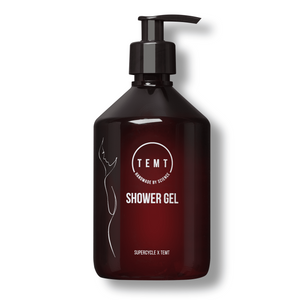 SUPERCYCLE × TEMT Shower gel
Wash every workout away with our lavender and rosemary scented shower gel. Specially formulated with a high dose of Aloe Vera gel for the freshest of showers. A real treat for dry, tired and overheated skin.

Cooling, light and very easy to apply, this natural based gel is made as a concentrated formula packed with bio ingredients which absorbs into the skin effortlessly. Skin is our biggest organ, yet it is the one that is most often neglected. When working out, skin becomes overheated or stressed which is why this shower gel is designed especially to remedy after work-out washes. Scented with the soothing lavender and rosemary, aromatherapy helps to calm the skin and your senses long after you leave the shower.
HOW TO USE
Ideal for after workout showers, the gel is perfect to apply straight onto the skin in long strokes or using a washcloth or mitt to lather. Foam up the entire body after rinsing yourself with fresh water. The gel works best on very wet skin, so be sure to rinse yourself first. After applying the gel wash all over the body, dip back into the shower to rinse off the rest of the foam before applying a body moisturiser.
KEY INGREDIENTS
High Aloe Vera Gel Content.
Natural Moisturizing Factors (NMFs).

All products are free of Paraben/ Silicone/ Mineral oils.
SIZE
500ml