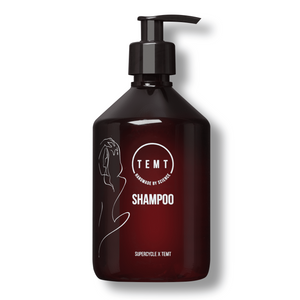 SUPERCYCLE × TEMT Shampoo
Repair and moisturise your hair with every dose of our lavender and rosemary scented shampoo. Made with natural sugars taken from wood and sea plants, it is a high-performance shampoo that boosts all hair types with shine and deep moisture.

Made for all kinds of hair types but specially formulated for damaged, worn out hair, TEMT Shampoo features the repairing agent Xylishine™ which is made to revive and regenerate hair from over styling and regular washing. Hair becomes brittle or can become extra greasy over time when washed on a daily basis – TEMT Shampoo helps to calm and strengthen the hair from the roots so that hair grows back thicker and stronger.
HOW TO USE
Depending on your hair length, add a healthy amount of TEMT Shampoo in order to lather up from the scalp, into the ends of your hair. Massage rigorously, but gently into the scalp while working longer hair into a lather. Wash completely, until water runs clear, then repeat the process again until hair feels truly fresh.
KEY INGREDIENTS
XYLISHINE is a hair moisturizer & repairing agent that enhances the shine of all hair types.
This new ally for damaged hair is a bio-inspired association of natural sugars mainly from wood and from the brown algae.

All products are free of Paraben/ Silicone/ Mineral oils.
SIZE
500ml