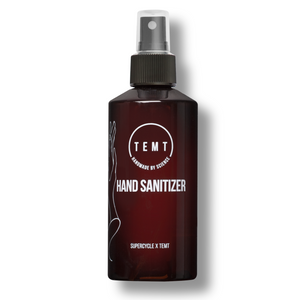 SUPERCYCLE × TEMT Hand Sanitizer
A high-performance, alcohol-based beauty-forward hand sanitizer that moisturises and cleanses at the same time. Made with Sea Buckthorn and scented with Rosemary and Lavender, it leaves hands that are soft, sanitized and smelling amazing. Lightweight, non-sticky formula. Vegan-friendly.
A concentrated and efficient sanitizer, this is almost entirely synthetic-free, and therefore leaves the skin moisturised through the seas buckthorn and scented with rosemary and lavender. These therapeutic scents promote calmness and moisture to the skins outer layers and are a mixture of 100% natural ingredients.
HOW TO USE
Spray into the palm of your hands. Rub through hands until fully absorbed. Each 200 ml bottle contains ca. 1825 spritzes.
KEY INGREDIENTS
Our perfume is a 100% mixture of natural essential oils. Skin care: Sea Buckthorn is rich on vitamin E and helps to keep your hands soft and moisturized. All products are free of Paraben / Silicone / Mineral oils.
SIZE
200ml