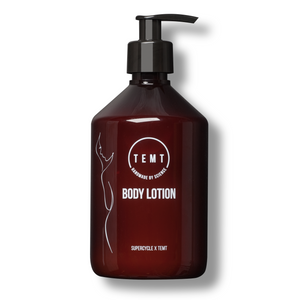 SUPERCYCLE × TEMT Body Lotion
Rejuvenate the body with our moisturising body lotion. Rich in Vitamin E and Jojoba Oil it effortlessly absorbs into the skin's surface for all-day moisture.

Light enough to wear everyday, this lotion fuses Jojoba Oil with Vitamin E to encourage the skin to absorb and hydrate naturally. Work into the skin after a shower or bath, when the skin is still damp or towel dried. Allow the skin to absorb the moisturiser naturally. Use morning and evening or after any shower or bath. Best to follow straight after cleansing the skin with TEMT Shower Gel.
HOW TO USE
Thanks to a combined list of ingredients that work hard on the skin's surface, only a little of this body lotion goes a long way in the name of skin moisturiser. Developed by a leading dermatologist team, this botanical rich moisturiser allows the skin to rehydrate after a long shower or bath, while actively encouraging moisture to reproduce naturally for the remainder of the day. No more reapplications or dry skin patches after an intense day.
KEY INGREDIENTS
Hyaluronic Acid, Vitamin E and Jojobaoil – focussing heavily on moisturization.

All products are free of Paraben/ Silicone/ Mineral oils.
SIZE
500ml